...but we don't know where.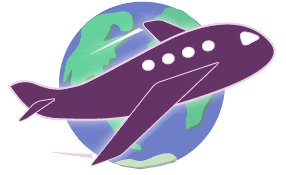 Josh will have some time between graduation and the start of his job, and we'd like to seize that time off for an overseas trip. You know, before he has to work for a living and has limited vacation time.
On that note, if anyone is looking for a two year gig with weeks upon weeks of freedom? BUSINESS SCHOOL. Let's see... a two week spring break, time before and after an internship, a week off at Thanksgiving, and three weeks off around Christmas. And yes, that does mean Josh has this week off while I slave away selling books. He is going to miss that when he re-joins the real world.
Back to the vacation conversation. We want to take a trip somewhere, but
we also want to buy a house
around that time.
When did I start crapping money
, you ask? Exactly. I didn't.
So we're looking for a relatively inexpensive vacation. We're flexible about the location, but have some boundaries. We're not sit-on-the-beach people. Nothing tropical. I don't think we're looking to do Asia or Africa.
South America
was great, but we don't plan to go again for our next trip. Europe is somewhere that we'd both like to visit, having only been to London and Istanbul. Nothing in-between! Or perhaps Australia and New Zealand?
Any suggestions? Tips? Favorite places? Websites?
Travelzoo
is already a favorite!