We're getting totally and completely excited for this to start up again: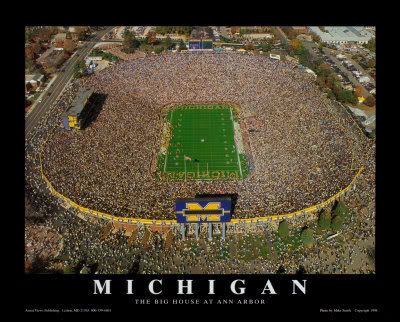 We even watched the famed 1997 game against Ohio State yesterday, just because we were in the mood. I just added http://www.mgoblog.com/ to my reader.
Less than two weeks, people. College football. Just around the corner.

It makes me do a little dance in my computer chair. Is anyone else out there excited? At all?
*******
Update: After Julie's comment to this point, I desperately need to share the story of "amazing" jello.
A couple of years ago Josh and I decided to have people over to watch one of Michigan's big games. I told my friends Julie and Kara that I'd make U of Michigan-themed cookies and "maize and blue" jello for the big event.

Which then promted this question from the two of them (who do live in the state of Michigan, albiet under a rock):

Amazing Blue jello? What makes it so amazing?
You know, maize and blue? The team's colors?
And with that, I hope you enjoy the "amazing green" (for Sparty of course) jello, Jules.